Smart
Products for Video Production
The Transcriptive family of tools uses A.I., audio and text files to help automate and accelerate your video production workflow.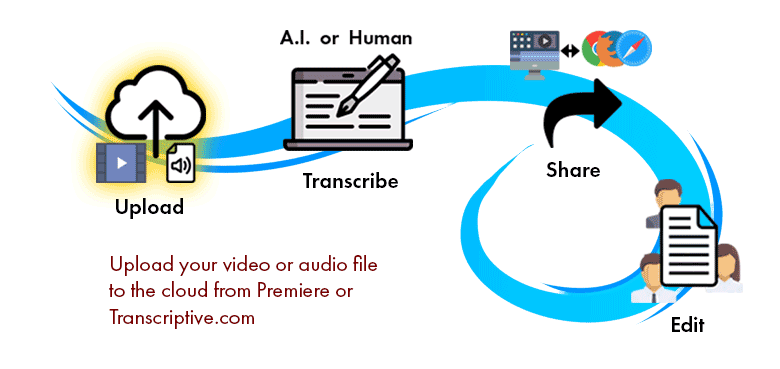 Transcriptive.com
Transcriptive.com lets you transcribe, share and edit transcripts! Collaborate on creating a paper edit by sharing the transcript with your team and editor. Send transcripts or videos from Premiere to Transcriptive.com, letting a client, AE, or producer edit them in a web browser. The transcript can then be sent back to the video editor in Premiere to continue working with Transcriptive and PowerSearch.


The Transcriptive panel is fully integrated with Adobe Premiere Pro. Use A.I. to transcribe your footage or import a human created transcript. All your footage becomes searchable and words are clickable, as every word has timecode. Click on a word and jump to that time in your clip or sequence. Edit the transcript directly in Premiere and export as captions, subtitles, or printed script.

Power Search
PowerSearch is also integrated with Adobe Premiere Pro, becoming a search engine for Premiere that searches every clip or sequence in your project. Giving you search results like Google. Click on the search results and instantly jump to the time in the sequence or clip where it is spoken. A huge time saver! No more searching by scrubbing!
Transcriptive.com lets you easily upload files to be transcribed. You can use the most accurate Artificial Intelligence algorithm available or have it transcribed by a native language transcriptionist.

Journalism: Easily and inexpensively transcribe all your interviews (audio or video), search them, make edits, and save as text files. You can also share transcripts and collaborate with your video editing team or other journalists.


Video Editing: Video is quickly becoming the dominant form of communication for organizations of all sizes – from large enterprise companies to small startups; working with video is the new reality. The ability to transcribe all your footage with A.I., giving every word timecode, makes editing and searching incredibly easy. It'll change the way you edit!

Education: Need an inexpensive way of transcribing lectures and training videos? With Transcriptive you'll get up to 98% accuracy. We deliver transcripts and subtitles at an unheard of cost. Ask about our educational discounts!

Captions/Subtitles: These are required in many cases due to accessibility laws or because many viewers now watch video without sound. Transcriptive makes it inexpensive and easy to create them.
" For us the most useful and time saving feature of Transcriptive is the tight integration with Premiere Pro and the speed in which the transcripts arrive back into the program . Also, being able to search the text and hit enter to arrive at the moment in the interview is very cool."
Ben Jehoshua
Brian Graden Media, SVP Development